Switch Accounts
Switch Accounts
---
I think I'll pace my apartment a few times [Sweetpea storage] And fall asleep on the couch
Active characters:
-Warblerpaw
-Rainwhisker





Developed characters:
-Juniperspot
-Snowthroat
-Kohl
-Ollie
-Marshpaw
-Oakstep






Underdeveloped characters:
-Frostpelt
Last edited by Sweetpea on Mon Feb 01, 2021 12:46 am; edited 1 time in total
MISCELLANEOUS POST, PRECURSOR 
---
Character form template
GENERAL INFORMATION
---
[NAME] Old, Present, Future
 [GENDER] 
 [PRONOUNS] /
 [SEXUALITY] 
 [AGE]  Moons, ages on the 
 [RANK] 
 [ALLIANCE] 
---
APPEARANCE
---
 [BREED] 
 [SHORT DESCRIPTION] 
 [LONG DESCRIPTION] 
 [AESTHETIC] 
---
PERSONALITY TRAITS
---
 [MAJOR TRAITS] 
 [MINOR TRAITS] 
 [LONG DESCRIPTION] 
 [MORAL ALIGNMENT] 
---
RELATIONSHIPS
---
 [PARENTS] Mother x Father, deceased
 [SIBLINGS] [brother], [sister], deceased
 [OTHER RELATIVES] 
 [STATUS] Single/taken/widow
 [CRUSH] 
 [MATE] 
 [KITS] 
 [FRIENDS] 
 [ENEMIES] 
---
OTHER INFORMATION
---
 [SCENT] 
 [HISTORY] 
 [VOICE CLAIM] 
 [THEME SONG] 
Art
Transparent: https://www6.lunapic.com/editor/
Resize; 58%, 175x213px: https://resizeimage.net/
Host: https://postimages.org/
[MINI-MES]

Transparent: https://www6.lunapic.com/editor/
Resize; 5%, 20x26px: https://resizeimage.net/
Host: https://postimages.org/
 

[VALENTINE EXAMPLE]
Fancypost
[VALENTINE EXAMPLE]
Code:

[size=13]<div style='width:100%; margin:align'>[/size]

[size=13]<div style='background:url(https://i.postimg.cc/MZN0kfvY/examplelogo.png); background-position:left; width:175px; height:231px; float:left;'></div>[/size]


[size=13]<div style='width:55%; height:250px; border-width:0px;border-style:solid; border-color:#9DB5A2; background:#[/size][size=13]9DB5A2[/size][size=13]; opacity:.8; padding:40px; margin:auto; margin-top:10px; float:left; overflow:auto; text-align:justified; color:#FFFFFF;text-align: center-justify;font-size: 10pt;'>[/size]
[center][size=11]<div style='text-align:center;color:#FFFFFF'>Interaction: N/A[/size][/center]
[size=11]________________________________________________________________________</div>[/size]


Lorem ipsum dolor sit amet, consectetur adipiscing elit. Suspendisse ut condimentum ex, at dapibus turpis. Pellentesque lacinia elit tellus, sit amet rutrum urna porta sit amet. Maecenas sed felis ultricies, aliquet enim ac, ullamcorper elit. Quisque sollicitudin faucibus dolor, a rutrum orci molestie non. Donec purus augue, luctus nec bibendum id, egestas sit amet purus. Aliquam posuere porta erat. Aenean at nisi eget magna dignissim sagittis non nec ante. Nulla venenatis quis felis et ullamcorper. Suspendisse in magna vel sem dictum ornare. Integer eros risus, malesuada nec convallis in, condimentum non ligula. Aenean hendrerit dui a risus maximus, vitae sollicitudin nisl volutpat.


Maecenas ac justo vehicula nibh semper ultricies. Sed lobortis, est sit amet porta viverra, augue velit elementum dui, quis ultrices turpis dolor ut lorem. Sed libero eros, rutrum dapibus sagittis eget, congue non arcu. Praesent laoreet vestibulum sem at laoreet. Donec varius mollis diam, ac porta odio imperdiet eget. Quisque rutrum a orci ac accumsan. Sed porta ipsum vitae sagittis tincidunt. Praesent feugiat felis nisi, fermentum tempor felis aliquet a. Nulla volutpat leo ac mi congue accumsan. Integer congue eget justo a laoreet. Vivamus a lacus molestie, dignissim dui id, varius odio.


Sed finibus porttitor felis at placerat. Morbi volutpat ipsum vel nisl suscipit scelerisque. Integer vestibulum condimentum placerat. Nam pellentesque maximus nisi, ac auctor ligula tempus nec. Fusce tristique imperdiet sem in varius. Donec ipsum nibh, feugiat eget tincidunt nec, bibendum id purus. Praesent felis sem, aliquam at orci et, interdum egestas ipsum. Etiam in mi ultrices, scelerisque urna non, faucibus felis. Aliquam mattis, eros sed condimentum porta, mi velit semper velit, quis fringilla ante dui quis sem.


Proin libero mi, dictum a fringilla vitae, lacinia at dui. Suspendisse eu dignissim tellus, vitae mattis neque. Nunc porta, dolor pharetra luctus elementum, est ex volutpat lacus, sagittis laoreet lacus ipsum eu eros. Aliquam blandit purus mi, sit amet condimentum lacus posuere ut. Fusce eu suscipit felis, at congue nisi. Integer ut felis sit amet mauris placerat lacinia venenatis cursus orci. Donec ultrices ex a lobortis placerat. Praesent ut ipsum vestibulum nunc placerat dapibus in at magna. Fusce interdum, nunc non mollis aliquet, leo metus aliquet arcu, mattis maximus ipsum velit et velit. Cras eu placerat lectus. Nulla nulla arcu, consectetur sed erat eget, tincidunt congue enim. Proin vel pretium magna. Vestibulum ultricies est ac arcu faucibus vehicula. Suspendisse et fermentum dolor.


Nulla facilisi. Duis sit amet finibus ante, sed sodales orci. Mauris in risus et dolor cursus rhoncus. Sed sed dui ut ligula feugiat vestibulum rutrum ut tellus. Donec non neque a enim convallis congue. Proin et arcu ipsum. Vestibulum ultrices nisi maximus augue gravida, a scelerisque ex blandit. Etiam eu ipsum eget metus aliquam facilisis sit amet in metus. Sed id fermentum tortor, a interdum felis. Aenean pulvinar diam id ornare auctor. Fusce scelerisque maximus nisl, in dapibus diam interdum vel. Ut lacinia nibh sed nibh faucibus, ac commodo enim euismod. Sed efficitur pharetra mollis. Vivamus a elit eget metus aliquet pulvinar. Fusce id ultricies nunc.

[size=13]</div>[/size]























<div style='text-align:left;opacity:.8'>    [img]https://i.postimg.cc/7Zyghv1G/example-logo.png[/img] [size=10][color=#ffffff]Tester, No rank[/color][/size]</div>
[size=13]<div style='text-align:left;opacity:.3'>         [/size][color=#ffffff][url=https://petsho.com/wp-content/uploads/2016/09/Albino-cat.jpeg][size=10][color=#ffffff]Reference[/color][/size][/url][/color][size=13] | [/size][color=#ffffff][url=https://youtu.be/15HvfhJ5R-I][size=10][color=#ffffff]Voice claim [/color][/size][/url][/color]| [size=10][color=#ffffff]Tags[/color][/size][size=13]</div>[/size]
[CLAIMED]
-Hayley Williams (Warblerpaw)
-John Ghallager Jr. (Rainwhisker)
-Lauren Pritchard (Kohl)
-Valorie Currie (Juniperspot)
-Joshua Keogh (Snowthroat)
-Angelina Jolie (Frostpelt)
-Dia Frampton (Marshpaw)
-Ethan Nestor (Ollie)
[UNCLAIMED]
-Zac Efron
-Alex Greenwald
Last edited by Sweetpea on Mon Feb 01, 2021 1:01 am; edited 1 time in total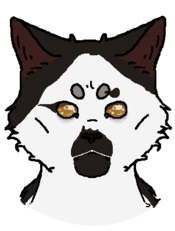 GENERAL INFORMATION
---
[NAME]
Warblerkit, Warblerpaw, Warblerwind
[GENDER] Female
[PRONOUNS] She/her
[
SEXUALITY] Wlw/lesbian
[AGE] 14 Moons, ages on the 29th
[RANK] Healer's apprentice, ex-warrior apprentice and ex-elder
[ALLIANCE] MysticClan
---
APPEARANCE
---
[BREED] Domestic shorthair
[SHORT DESCRIPTION] A small tuxedo with amber eyes and a severely injured hind leg.
[LONG DESCRIPTION] A mostly white shorthaired she-cat with splotches of black over her entire body, primarily on her face and dorsal side. Her head is rather angular, with black ears, a streak of black coming from the outer corner of her right (left to the viewer) eye and a small blob right above her left eye (right to the viewer). Warblerpaw's muzzle is also black, with a streak of white that follows along the edge of her lips. Her left (right to the viewer) forepaw is black, while the rest of her paws are white; although she's ambidextrous, she prefers to use her right paw which unfortunately makes her unbalanced. She has warm, red-rimmed amber eyes that often exhibit signs of sleep deprivation. Her rear left (right to the viewer) leg is injured, toes uncomfortably splayed out and claws permanently extended. A large patch of raw, pink skin curls from the back of her thigh to half-way to the front of it. This injury causes her to walk with a limp, though the severity varies day-to-day depending on her pain level. On worse days, her pelt looks rather unkempt and oilier than normal.
[AESTHETIC] Smudged charcoal, tall and dying redwoods, and drizzling rain
---
PERSONALITY TRAITS
---
[MAJOR TRAITS] Irritable, sullen, grouchy, empathetic, sarcastic
[MINOR TRAITS] Imaginative, understanding, adaptive
[LONG DESCRIPTION] Due to chronic pain from her injury, Warblerpaw tends to be difficult to get along with on most days. All of the negative energy that builds up winds up seeping through her personality, making her grouchy, easy to irritate, and sometimes concerningly uncaring; as long as there aren't injuries or lives at stake, she generally doesn't waste her limited energy interfering with problems in the clan. Honestly, she'd more than likely turn a blind eye to less severe code violations like a hungry apprentice eating before they were supposed to or a tom sneaking off at night to meet with a mysterious stranger. Given that the tuxedo is constantly moving and rarely sleeping, she's definitely caught a few clanmates slipping up here and there. Despite her surly attitude and dryer-than-the-Sahara humour, Warblerpaw feels very strongly for her clanmates. She tries her hardest to be as understanding, empathetic, and flexible as she can.
[MORAL ALIGNMENT] Neutral good
---
RELATIONSHIPS
---
[PARENTS] Icefall x Pike
[SIBLINGS] Crowpaw 
[brother], Pikepaw 
[sister]
[OTHER RELATIVES] Open
[MENTOR] Lakewhisper, previous mentor available
[STATUS] Single
[CRUSH] Dewpaw
[MATE] N/A
[KITS] N/A
[FRIENDS] Dewpaw, open
[ENEMIES] Open
---
OTHER INFORMATION
---
[SCENT] Seasalt and rosemary
[HISTORY] She was born into MysticClan to Icefall and an unknown father alongside two siblings, an older sister and an older brother. The three were very closely-knit even in apprenticehood, spending most of their first 5 months of training together. However, shortly before what would have been the date of their warrior ceremony, Pikepaw convinced Warblerpaw and Crowpaw to sneak out of camp; they'd followed the rules to the letter for their entire apprenticehood and she desperately wanted to be a rule breaker just one time. Unfortunately, this late-night adventure would wind up being one of the most life-changing moments of Warblerpaw's life as both of her siblings were killed and never recovered, and she was permanently injured. At 12 moons, just a moon after the incident, she tried to get back into training but found that the pain in her leg was far more limiting than the injury itself. Heartbroken, she spent a short while in the elder's den before approaching Lakewhisper and begging for a chance.
[VOICE CLAIM] Hayley Williams
[THEME SONG] Ebony Sky - Young Fathers
Last edited by Sweetpea on Fri Feb 05, 2021 4:50 pm; edited 8 times in total

---
[NAME]
Snowkit, Snowpaw,
 Snowthroat
[
G
E
N
D
E
R
] Mal
e
[PRONOUNS] He/Him
[
SEXUALITY] Straight
[AGE] 40 moons, ages on the 1st
[RANK] Warrior
[ALLIANCE] FlyClan
---
APPEARANCE
---
[BREED] Domestic shorthair
[SHORT DESCRIPTION] A stocky brown-and-white tabby tom with green eyes.
[LONG DESCRIPTION] A mostly brown shorthaired tom with a moderate degree of white masking  on his face, chest, lower belly, and both large forepaws. The splotch on his pale muzzle is asymmetrical and on the left side (right to the viewer) of his maroon nose. His round eyes are a pretty shade of yellow-green. The white on his chest is his namesake, stretching broadly over his throat and narrowing as it met his upper belly. Throughout his brown splotches, his fur fades to a pretty reddish colour due to rusting. His tail is short proportionately, but not cropped, and his overall build could be described as bulky for his height; potentially even a little headyset with his thick tomcat cheeks and swinging belly. Since the loss of his family, his small ears have been in a perpetually lowered state and his eyes have grown dull.
[AESTHETIC] Ice splintering, blankets fresh from the dryer, and a looming thunderstorm
---
PERSONALITY TRAITS
---
[MAJOR TRAITS] Quiet, grieving, empathetic, self-sacrificing
[MINOR TRAITS] Playful, teasing, lenient
[LONG DESCRIPTION] Prior to his losses, Snowthroat was an incredibly empathetic and self-sacrificing tom. While he didn't always follow the warrior code (as evident by his choice in mate and their resulting half-clan half-loner kits), he listened to his heart and did what he thought was right. He loved to hide and startle new apprentices and was always available to lend a paw if someone needed a break from patrol or training. Unfortunately, after the death of Gia and their son Marigold, he's fallen into a deep depression and is struggling to make it day-by-day. The only ray of light in his life at the moment is his young daughter Dhalia, an almost exact replica of her late mother; without her, Snowthroat's not entirely sure if he'd even be able to get out of his nest to get prey. As it stands, he's toeing the line between healing and returning to his joking self or succumbing to his grief.
[MORAL ALIGNMENT] True neutral 
---
RELATIONSHIPS
---
[PARENTS] Lichendapple x Bramblefoot
[SIBLINGS] Riverheart [sister], Dogfur [brother], Shypaw [sister], Sweetkit [sister]
[OTHER RELATIVES] Open
[MENTOR] Bramblefoot
[STATUS] Widower, potentially open in the future
[CRUSH] Open
[MATE] Gia
[KITS] Dahlia, Marigold
[FRIENDS] Ollie, open
[ENEMIES] Open
---
OTHER INFORMATION
---
[SCENT] Rain and mint
[HISTORY] He was born and raised in FlyClan to distant, divorced parents. His youngest sister was a stillborn and his second youngest died of greencough during a bad outbreak when they were apprentices, but he otherwise lived a normal life into adulthood. Shortly after he became a warrior, he met Gia for the first time. He fell head-over heels almost immediately, but it took her many moons for her negative feelings about Clan cats to melt away into tentative acquaintanceship, strong friend
ship, and eventually, unyielding love. As Gia became more comfortable with Snowthroat, she grew comfortable enough to introduce him to her young friend Ollie. As the moons drew on, Snowthroat became an older brother figure to him and he was ecstatic to hear the news that Gia was expecting a litter of kits. Unfortunately, Ollie was the one who discovered that Gia and her son, Marigold, had suddenly and inexplicably died in their sleep, and he was the one who delivered young Dahlia to Snowthroat.
[VOICE CLAIM] 
Joshua Keogh
[THEME SONG
]
 Amen - Amber Run